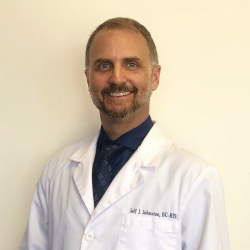 Latest posts by Jeffrey J. Johnston, BC-HIS
(see all)
Last week I dropped off my Father at the airport after a two week visit over the Thanksgiving holiday. He lives in Mesa, AZ. Dad has worn hearing aids for almost twenty years. He worked for 40 years in a local factory and it did a number on his hearing.
I brought him into the office for his annual hearing aid check and realized his hearing aids were almost 5 years old. After some testing we decided it was time for new technology. We performed Real Ear testing to ensure we had the hearing aids adjusted correctly and after a day of wearing the new hearing aids he couldn't believe how much better he was hearing. So much has changed since we last fit him. He thought he was hearing pretty good until I fit him with his new hearing aids.
Here is what he had to say;  "These new hearing aids are my fourth pair over the last 20 years and nothing has come close to being this good. I love them.
They are rechargeable. I put them in the charger every night and never have to worry about putting in new batteries.
I hear everything. I was wearing top of the line technology with my last pair but these are so much clearer. I could hear so well in a noisy room.
They connect directly to my iPhone and my phone calls and music play through the hearing aids. This is the best I have heard on the phone in years.
The app on my smart phone acts like a remote where I can turn up/ down, mute, and make other adjustments.
They work automatically. I don't have to push buttons for different environments. The hearing aids do it for me.
If you don't hear as well as you used to, give Jeff a call and see if he can do for you what he did for me."
Folks the most common thing I hear from my patients when they are fit for the first time is, " I should have done this sooner." Don't wait. Now is the time. Soon many of you will be gathered with family for Christmas. You don't have to miss out on what's being said. Call us to schedule a free hearing screening and consultation. We will make it worth your time.